Nowadays, cross-device interactions are more polished. For instance, Apple devices work better in tandem and we needn't elucidate here. Lately, Android and Windows-powered PC integration has improved a lot too thanks to Microsoft Your Phone app. Jumping on to the bandwagon, Google has been testing a feature popularly known as Phone Hub on Chrome OS.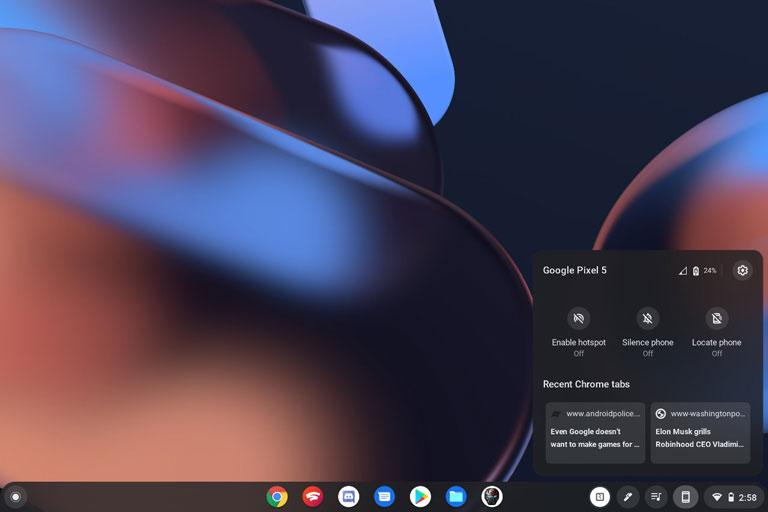 The Phone Hub facility is nothing but an added capabilities on the existing integration Chrome OS offers with Android devices. As you'd expect the improved integration will keep your phone and Chromebook in sync much better than ever before. Apart from the existing sync capabilities like messages, Smart Lock, and automatic WiFi hotspot, the "Phone Hub" expands the sync features by adding a new UI in the taskbar and adding notification mirroring.
Connect your phone to Chromebook
The new UI is in the staged roll-out and only a few Chromebooks out there running ChromeOS 90 or above seems to be having the feature visible. Nevertheless, here is how you can set up the Phone Hub on your Chromebook.
At the bottom right, select the time.
Select Settings icon.
Under "Connected devices," next to "Android phone," select Setup.
Choose the phone you'd like to connect with; Then, tap Accept and Continue.
Next, you've to enter your password and follow the steps.
Once completed, you'll get a confirmation on your phone.
On your Chromebook, under "Enabled," select which features you want to turn on.
Now, select the time at the bottom right again, again and you'll see the new UI of Phone Hub with notification access and all.
As said earlier, you may not be able to see the new UI as the feature is in its testing stage but ready for a wider roll-out sooner than later. So, if it's not available on your device now, no worry as it can be in some days.