We've already discussed how to turn on the Roku TV and Samsung TVs without a remote. Well, seems users of other TV brands also suffer from this serious issue of forgetting where they left the remote. These users should come up with a solution to this rather serious problem, or our best option is to use the TV without a remote. Unlike older TVs, it might be a challenge to control a modern TV with onboard buttons. So we'll tell you how to turn on your Vizio tv without a remote. This could be quite a relief for many of you out there. We hope you figure the rest by yourself.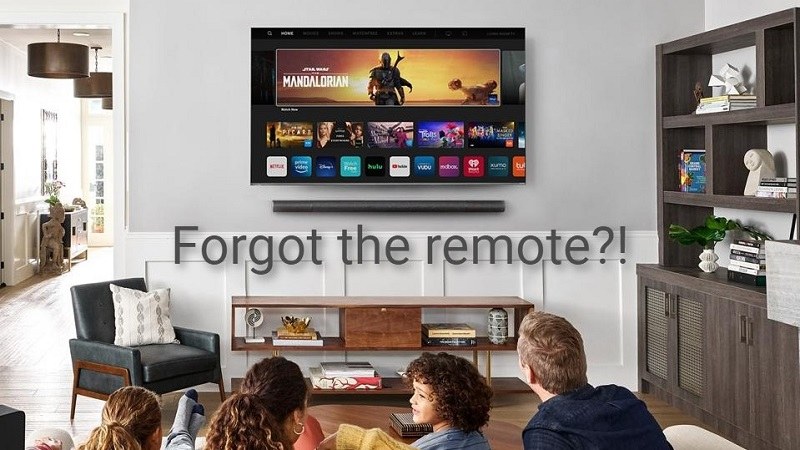 As we said, older boxy televisions had simple controls. At that time, almost all TVs had a dedicated power button that was large enough to grab the user's attention. But as the TVs got thinner, the manufacturers started experimenting with these buttons. Modern TVs features physical buttons that serve multiple purposes.
Steps to Turn ON Vizio TV without a remote.
There are two ways by which you could turn on your TV without a remote. The first one is the good old way of doing it and won't be a pleasing experience if you fail to find the remote anytime soon. The second one, on the other hand, is a lot more fun. You won't be losing your remote again if you follow the second method, but there is a trick. 
Turn on Vizio TV using physical buttons.
This is a straightforward process. The onboard buttons on Vizio TVs are usually located at the back of the TV. Either on the bottom left corner or the bottom right corner. By convention, press the rightmost button if these buttons are in the bottom right corner. The same goes for the buttons on the bottom left corner, press on the leftmost button. Vizio might've hidden these keys to improve the aesthetic appeal of their TVs. Even though this method works with every model from Vizio, these buttons will be of little use on modern Vizio Smart TVs. This is where the next one shines. 
Using the SmartCast App
Almost every TV manufacturer provides Android and iOS apps to control their smart TVs. This is why this method won't work with Vizio TVs before 2015. To start with, you'll have to download the SmartCast App from Vizio. Download it from either of the following. 
Once downloaded, be sure to grant it all the necessary permissions. Now open the app and bring your phone closer to the TV. Open Devices within the app and click on Add on the top right corner. Your TV should pair with the app, and you can click on Control at the bottom of the app to turn on your TV. You'll get a full-fledged remote to control your remote, and since you're on a smartphone, you won't lose it again. At least not as fast as you'd lose the remote. 
Before wrapping things up, know that you can turn on a TV using either a PS4 or a Nintendo Switch. But to do that, you'll need your TV to be turned on for the initial setup. We also have a strong intuition that gamers doesn't need a guide to use the feature on either of these devices.