During Google I/0 2021, Google announced that they'll be testing a built-in RSS reader in Chrome for Android. Even though it is very likely that Google might shelve this one. Like their many promises in the past I/O events. But it seems users can play with the RSS-powered Web Feed in Chrome for Android, at least until Google shelves it for good. So today, we'll see how to use the Google Chrome Web Feed feature. More importantly, what this new Google Chrome Web Feed is.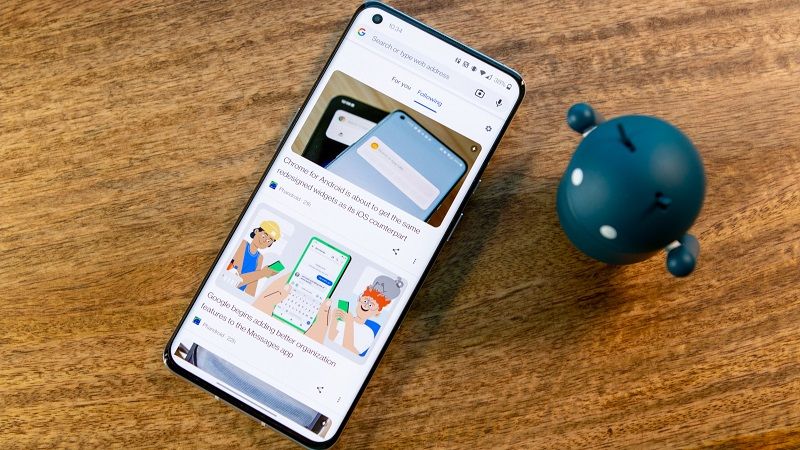 RSS or RDF Site Summary or, more simply, Really Simple Syndication is a feed that lets the software access updates on websites. It does this in a standardized, computer-readable format that let the user/program keep track of updates on multiple websites. As Google calls it, the Web Feed is available in Chrome 92 and later. Yes, it is now in beta, but that hasn't stopped us before.
Use Google Chrome Web Feed
Enabling the new Web Feed is simple if you're familiar with flags in Chrome. But before you proceed further, make sure that the version of Chrome on your Android device matches up with the requirements.
Open Google Chrome on your Android device and type in chrome://flags/#web-feed into the search bar.

You'll now be greeted with a search result. The Web Feed feature will be highlighted in yellow. 

Set it to Enabled, and you'll be asked to relaunch the browser. Relaunch it and hope that everything goes good.

If everything goes as expected, a 

Follow

button can be found at the bottom of the Overflow menu. It might not be available for some websites, and to makes things worse, it won't be available for some devices. 

If it is available on your device, you can use it to follow the websites you wish to receive updates from. 
Following joins For You
While in a new tab, the user will be greeted with the new Following section with the existing For you section. The For you is part of the Discover feature that gives the user personalized news and updates. While both are somewhat identical, the Following section displays full-width cards that feature large cover images. These cards also feature the headline, site name, publish time and a share and an overflow button. Users could also use the settings icon at the right to manage their preferences. 
The Web Feed is a great new addition to Chrome. While it might not replace a proper RSS reader, it sure does make things easier for casual users. Users can now track updates on their favourite websites with ease, and we believe that will be a relief for many, including some of our own. We hope Google will let this one through.