No one needs an introduction to Chrome. But only a handful of you knows about the Live Caption feature. Live Caption can be the next main thing, and like many main things, it debuted on Android. And now Live Caption comes to Chrome for PC, but don't get your hopes up. It is only "out of beta" for the "unstable" Canary version of Chrome.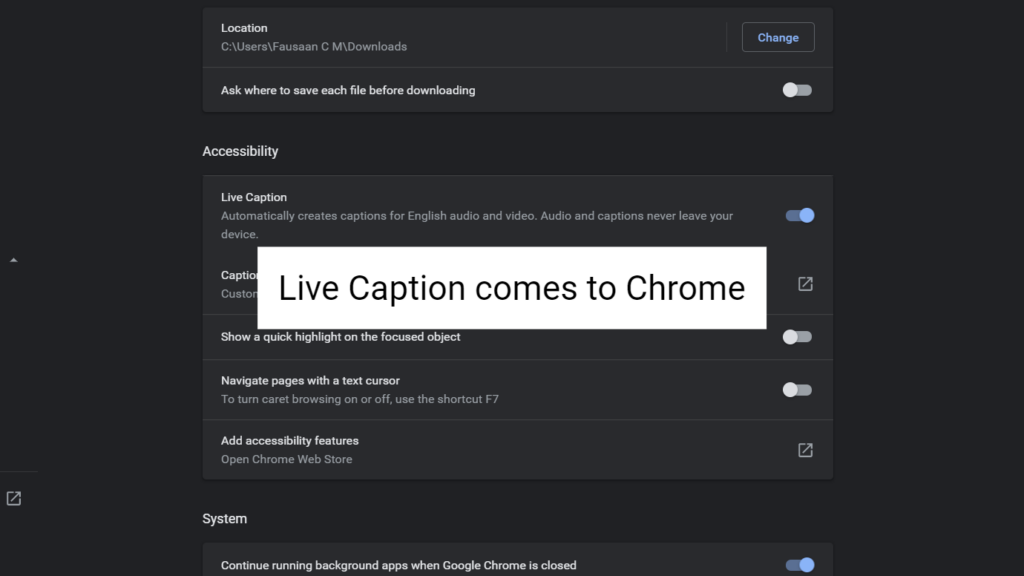 Google Chrome has always been the first to bring useful features to users (whether good or bad). And now they've added a toggle to enable or disable live captions for the dedicated media controls menu on the toolbar.
But What is Live Caption?
Live Caption is a new promising feature from Google. It can translate audio in real-time. As said earlier, it was first introduced on Android (Android 10, to be specific). Roughly, after around two years, the feature finally came to Google Chrome (at least for the "unstable" one). You could check out the video from Google to know more about the Live Caption feature.
Enable/Disable Live Caption on Chrome Canary
The feature is turned on by default, which can be a little irritating as it is still a premature one. So if you wish to disable Live Caption (or may wish to enable it in the future), follow any of the following.
Go to 

chrome://settings/accessibility

. If you can't find Live Caption in the accessibility settings

Search for it in 

chrome://flags/

. 
Now that was fast, wasn't it?. As we discussed earlier, the Live Caption feature is still in its early stages for Google Chrome. So we should expect some minor (or maybe major) glitches here and there. Also, we saw some weird captions that were never even close to what the video/audio said.
Live Caption seems promising, and we believe it sure does have a bright future ahead. What do you think of it?. Do let us know in the comments.