Over the past some time, linear TV is finally losing its sheen over Streaming TV. With the advent of different streaming services like Netflix, YouTube TV, Hulu, and Peacock TV, people are generally spending more time on these platforms rather than traditional cable TV. The recent Nielsen report confirms these claims and in the month of July linear TV usage fell below the 50% threshold.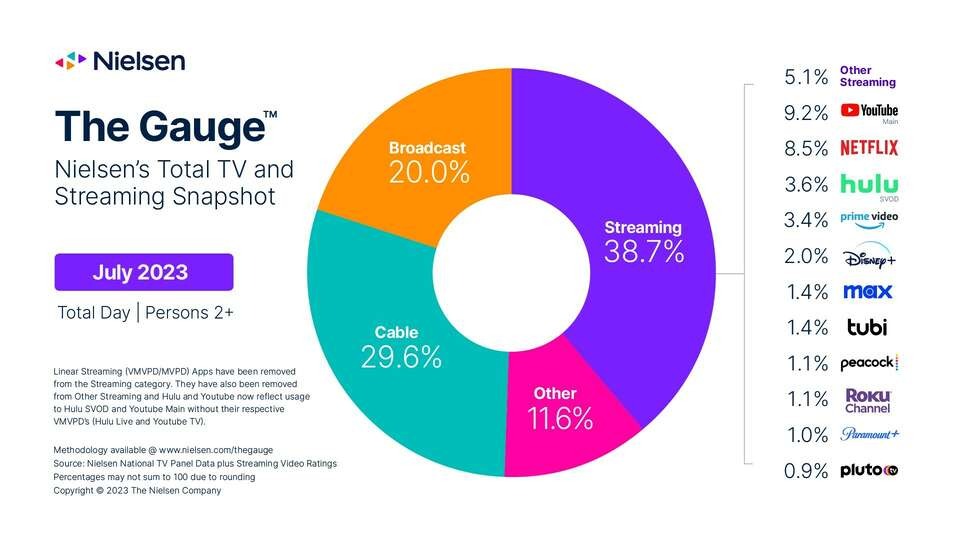 Must See: Walmart's Cheap Google TV Streaming Stick coming soon!
Data from the report reveals that streaming services accounted for 38.7% of TV usage in the month of July, in comparison with 36.9% in June. Among the services, YouTube TV and Netflix top the list with 9.2% and 8.5% of total viewership, respectively in July. Meanwhile, Hulu and Premie video remained at 3rd and 4th position with 3.6% and 3.4% viewership, respectively.
However, broadcast TV viewership is losing its charm every year, and in Year-on–Year comparison it fell 5.4% in July. However, the change seems not permanent, it varies from season to -season. We expect traditional TV viewership to soar with the onset of football season in the coming weeks. Even, channels like Fox, CBS, and ABC are some best ways to watch live sports events such as NFL games.
Must See: Comcast users get Free Streaming Channels from Xumo in X1 Streaming Box
It is a long-term game for Streaming services to permanently overturn linear TV services. Streaming TV should focus on bringing such sports leagues to its fold for ultimate victory over traditional TV channels.