With the rise of online streaming services, online TV streaming services have started replacing regular cable services. Services like YouTube TV, Hulu, DirecTV, and Sling TV have started providing better services to users which encourages them to cut the cord. But, with this many options, which one will be a better cord cutter for you? In this article, we are going to compare the two most popular TV streaming services to find out which one is better suited for you.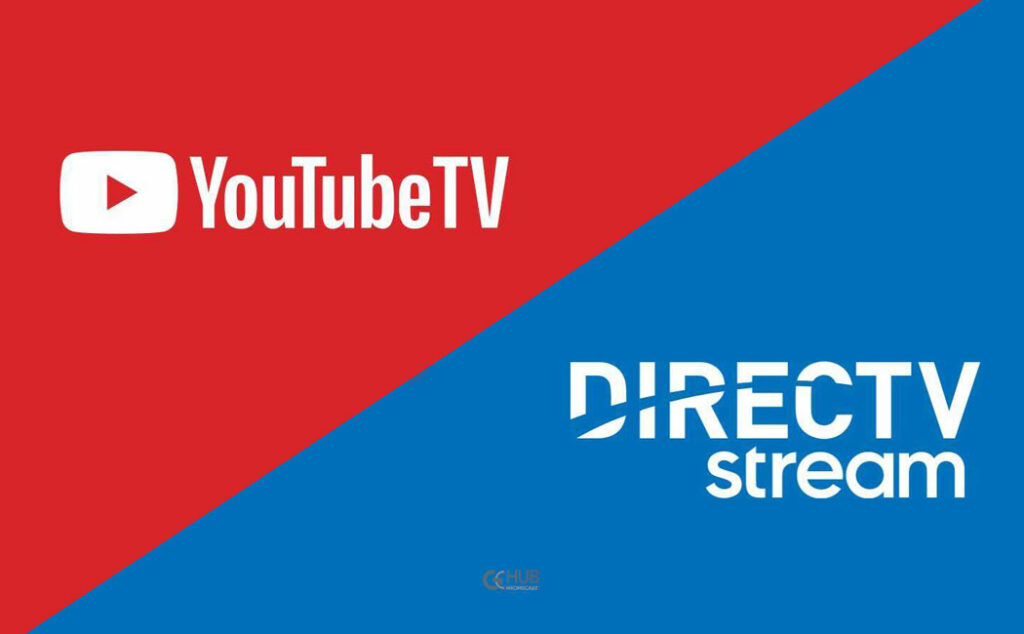 YouTube TV and DirecTV Stream are very famous names when it comes to TV streaming services. The best part about TV streaming services is that you don't need any extra hardware, you can log in on any device and stream live. So, let us see which service comes out on top.
YouTube TV vs DirecTV Stream – Which one is better?
Starting with DirecTV, it is the oldest TV streaming service which was previously known as AT&T TV. In 2021, the service was sold by AT&T and went through a name change. However, as it is the oldest online TV streaming service, the number of channels available is the maximum you can get on any TV streaming service.
On the other hand, YouTube TV is one of the latest TV streaming services. It was launched by Google and offers many premium features to users. But, as it is one of the latest TV streaming services, the number of channels might not be the strong point for it.
Price
Pricing is the major criterion for users when buying any service and Google has made sure to offer the best. The base plan for both the services is comparable, but YouTube TV will save a few bucks extra. The base plan for YouTube TV starts at $65 per month and you can add add-ons as per your need by spending some extra bucks.
Here are some popular add-ons from YouTube TV listed below.
[table id=21 /]
On the other hand, DirecTV is one of the most expensive TV streaming services if you chose the top-most plan. However, the base plan for DirecTV starts at $70 per month that covers all the essentials you need. The highest plan available on DirecTV is too costly and provides too much which is not needed for everyone.
We have listed all the plans offered by DirecTV below.
[table id=22 /]
Channels
As already mentioned above, DirecTV is the oldest online TV streaming service so, it comes with the maximum number of channels available on any TV streaming service. DirecTV offers up to 330 plus channels on the premier plan however, the base plan will provide 160 plus channels. On the other hand, YouTube TV is a newcomer and brings around 85 plus channels on the base plan. But, you can always opt for the add-ons to add some extra channels to your plan.
DirecTV has all the channels that are available on YouTube TV, even on the base plan. Also, you have to buy HBO Max as an add-on on YouTube TV, but it is included in every plan on the DirecTV stream. Both services provide regional channels like news, sports, and others. But, if you are looking for more sports channels, DirecTV would be a better option.
Features
Online TV streaming services come with extra features to provide a premium TV experience. These features include DVR, 4K, simultaneous streaming, and more. Starting with DVR, both services provide unlimited DVR storage, but the base plan on DirecTV only provides 20 hours of DVR storage. So, if you want unlimited DVR storage on DirecTV Stream, you have to buy plans accordingly. Also, DirecTV Stream keeps the stored data only for 90 days on DVR storage, meanwhile, YouTube TV will keep it for 9 months.
Both services provide simultaneous streaming up to 3 screens. When it comes to 4K, you can opt for the 4K Plus subscription on YouTube TV for $10 per month for the first year and $20 after that. Meanwhile, DirecTV doesn't provide 4K streaming currently.
Device Support
Both services support all the major streaming devices available in the market except some. Below is a list of supported devices for both services.
[table id=23 /]
Conclusion
Both YouTube TV and DirecTV stream provide basic channels and services on the base plan. If you want to save some bucks, YouTube TV will be a better option. However, if sports and the number of channels are your priority, you should go for DirecTV. Opting for the premium plans on DirecTV is not recommended as the base plan will fulfill your daily needs.
We hope you liked our article YouTube TV vs DirecTV Stream. For more comparisons, News, and How-to guides stay connected with us here on GChromecast Hub.