YouTube TV is a popular streaming service from Google. The service is however owned by YouTube with prominent features such as Cloud DVR, on-demand shows, and live TV. Adding to that, now YouTube TV has rolled out the Dolby 5.1 Audio for Android TV devices such as Roku and Google TV to name a few.
Back in 2021, YouTube TV announced the Dolby 5.1 audio experience for its audience. The subscribers can enjoy an enhanced sonic experience without having to pay anything extra. True to its words, YouTube has dropped the new feature which is rolling out this week for various Android TV devices. It has declared the release of the new feature via its official social media handle.
YouTube TV also mentioned that they are working to get the Dolby 5.1 audio for Apple TV, Fire TV, and other game consoles.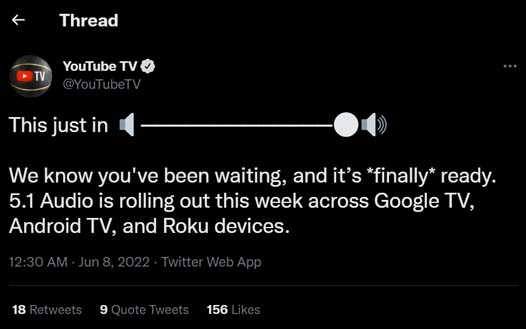 Requirements to Enjoy Immersive Dolby 5.1 Surround Sound on YouTube TV
If you want to enjoy the all-new Dolby 5.1 surround sound on YouTube TV for various Android TV devices that you use, here are a few things to keep in mind.
As we are talking about YouTube TV, the app needs to be installed to enjoy programs with Dolby 5.1 audio.
A speaker system that is compatible with Dolby 5.1 audio output.
Watching those programs that are created with support for Dolby 5.1 audio.
Compatible TV Models for Dolby 5.1 Surround Audio
After DIRECTV STREAM and Hulu Live TV began supporting Dolby 5.1 immersive audio experience, now YouTube TV has also joined the bandwagon in offering the surround sound for selected content on its platform.