Google Meet is getting some new features from the search giant to improve the overall functionality. It has recently received an option to change the background while video calling your friends and family. It was a much-awaited feature for the Google Meet users as the competitors like Zoom, Skype and Microsoft Teams already endeavour video call background feature. It is quite easy to activate or change the video call background on Google Meet.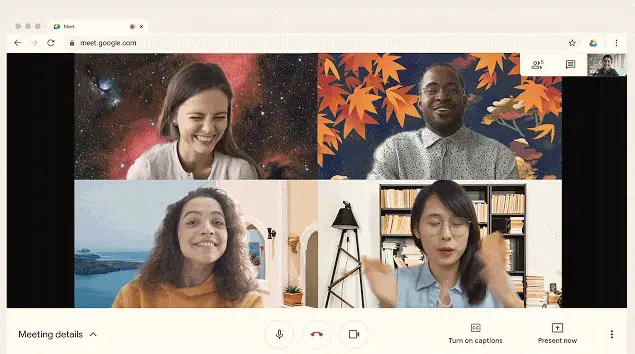 The new feature does not require a browser extension to enable the custom backgrounds feature. It is easily available via the Google Meet console where you can add custom images or you can use Google provided images.
Google announced the new feature via a blog post confirming the compatibility on ChromeOS, Chrome Browser on Windows and Mac desktop. Every Google Meet user ranging from the premium subscriptions to the free users having a personal account. However, Google is bringing it to mobile devices including Android and iOS very soon.
Steps to change video call background in Google Meet (Custom background)
It is quite an easy task to beautify or give cleaner look on the background while video calling the users. You can change background before the call, during the call or can pre-save the background for every call.
You need to head over to Google Meet > Select Meeting > Change Background. Then Join Meeting.
During the call, head over to More option (three dots) and then click on change Background.
Note: You can select from the listed image options or can add your own image. 
It is a highly anticipated feature as all other video conferencing services provide it since past few months. They are getting better day-by-day and we expect the same from Google Meet.
However, Google Meet is not so far behind as it offers blue effects for backgrounds, low-light mode, hand-raising, 50-person limit and a real-time captioning feature. Google added the Goot Meet to Gmail amid the global lockdown in May. The service is being used to host 235 million daily meetings according to Google CEO Sundar Pichai.