Zoom meetings can sometimes get too crowded, and this is where a big screen would come in handy. A TV might be our best choice, but Zoom very well knows we can't hook up a camera to our TV. So there is no point in releasing an app for TVs that require a camera and a microphone. Casting or projecting might be our next best option to Zoom on a bigger screen. So in this guide, we'll show you how to use Zoom on a Samsung Smart TV.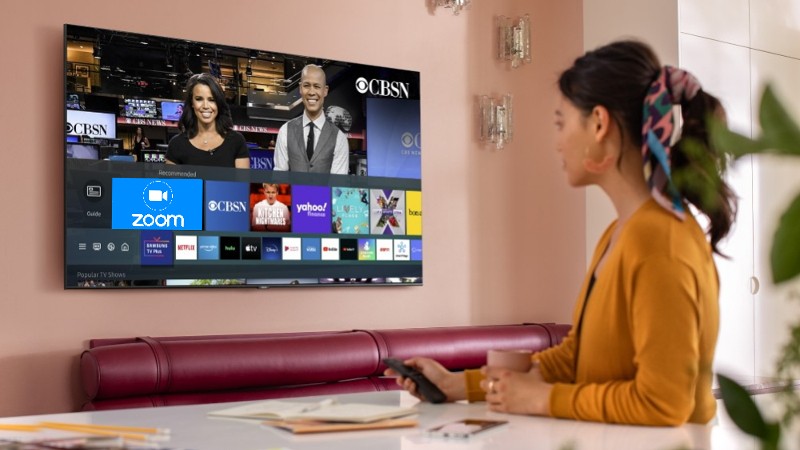 Zoom is available on most leading platforms, including Windows, macOS, Android, iOS, etc. Even though casting looks cleaner, we recommend that you hook your PC over HDMI for the fastest experience. Before we get into how we can do that, make sure your setup meets the following.
Pre-requisites
A faster internet connection is required to use Zoom on a bigger screen. Otherwise, the lower resolution might spoil the viewing experience. 

Your TV and the host device must be on the same Wi-Fi network if you're planning to cast Zoom wirelessly. 

You'll need an HDMI cable to connect your PC to the TV the fastest way. If your device doesn't have an HDMI port, you might also want to invest in a USB-C dongle. 
Zoom on Samsung Smart TV
As we said, we can use Zoom from a variety of devices. Wired methods ensure minimal latency, which will improve the overall experience. However, not everyone will have access to a PC or Laptop. So we'll discuss the casting methods first. 
Cast from Android
The easiest way for us to cast from an Android device is to use the native casting feature of Android. However, OEMs often use different names to make their features stand out. Cast, Wireless Projection, Screen Mirroring, and Screen Share are examples, to name a few. 
Open the 

Quick Settings

 menu by swiping up or swiping down on your Android device.

Look for an icon with any of the names listed above. 

Click on it and let your device scan for supported TVs on the same Wi-Fi network.

Select your Samsung TV once it appears on the list.

Depending on the TV, you might be prompted to enter a PIN displayed on the TV screen.

If everything goes as expected, your phone's screen will be mirrored to your TV.

You can now open Zoom and enjoy it on the bigger screen. 
If you happen to own a Samsung smartphone, you might have better control over the casting process. 
Zoom on Samsung Smart TV from iOS
Casting from an Apple device to a Samsung TV requires a third-party application. There are numerous apps in the Apple App Store that could do the job. In fact, we have covered some of the best apps for casting from an Apple device to a TV. However, we'll be using Screen Mirroring Samsung TV from AirBeamTV BV for this particular example. But feel free to use any app of your choice. 
Install and launch the app on your Apple device. The app will scan for Samsung TVs on the same Wi-Fi network. You might be prompted to grant permission to scan for nearby devices. 

Select your TV once it appears on the list. Now go to 

Start Mirroring > Mirror Samsung TV > Start Broadcast

.

Your phone will now appear on your Samsung TV. 

Open Zoom and enjoy it on the big screen. 
Cast from PC/Laptop
It is a lot easier to cast from a PC/Laptop. All you need is a Chromium-based browser. We'll be using Chrome as an example, but the steps are near identical for competing browsers like Edge and Brave.
Open the browser on your PC. Click on the menu icon at the top-right corner. 

Click on Cast and let the device scan for TVs on the same Wi-Fi network.

Select your TV once it appears on the list.

You might want to switch the 

Source 

to 

Desktop 

instead of 

Tab 

or 

Window

.

 
In all the methods discussed, you might feel a considerable amount of lag. This would ruin the overall experience. This is why we prefer the following over the ones listed above. 
Project Zoom over HDMI or USB-C
Projecting from a PC/Laptop might be a lot easier. Also, if you happen to own a Samsung smartphone with DeX support, you can hook it up to your TV like you would a PC. Wired connection is significantly faster than wireless methods. 
Project from a PC/Laptop
All you need to do is connect the PC to your TV using an HDMI cable. If you're using a modern MacBook, you might want to invest in a USB-C dongle. Choose the HDMI port from the sources once you connect your PC to your TV. Windows users can also use this opportunity to extend their display. 
Samsung DeX over USB-C
Samsung DeX is the brand's desktop environment embedded in their smartphones. All you need is a USB-C hub to connect an HDMI cable to your TV. The dongle also lets you hook up a mouse or a keyboard to your phone. 
Note that depending on your TV, you might want to activate screen mirroring in the first place. To do that, tap on the source selection button on your remote and go to the Connection guide. Go to Smartphone to accept incoming mirroring requests. You can also use DeX wirelessly on supported smartphones. Simply follow the instructions for casting an Android device on your TV. Choose DeX from the Quick Settings menu.