After serving for the past couple of years, Google Chromecast 3rd generation is set to be replaced with a new Chromecast Google's new Android TV dongle 'Sabrina'. The upcoming Chromecast device will come with a dedicated physical remote and is expected to launch in teh coming few days. In order to clear racks for the upcoming device, the Search giant has permanently reduced the price of Chromecast 3rd generation to $29.99.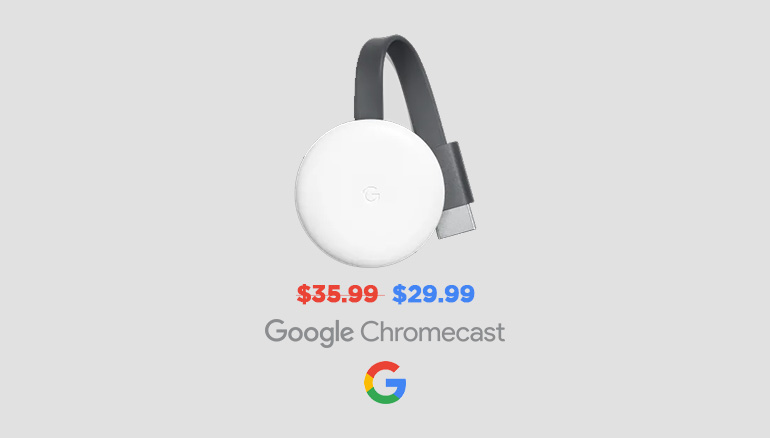 You can grab the Google Chromecast 3rd for $29.99 from Best Buy or Offical Google Store.
Google announced the Chromecast 3rd generation in 2018 at the price of $35. However, after the span of two years, the company has finally reduced the price of the latest Chromecast to $29 on its offical Google Store. It is usually done prior to the launch of the new model.
Google Chromecast 2018 or 3rd generation features quite a soft and curvy design with 'G' logo imprinted on teh top of the device. There are some other design changes consisting of a corded HDMI connector after eliminating the whole chassis-based HDMI connector. Google promised about a "15 percent improvement in hardware speed" while rendering the 1080p video at 60FPS. Overall, it was a good overhaul over the 2nd generation Chromecast.
Many new rumors about the upcoming Chromecast are constantly leaking over the past few weeks. We expect the new streaming device to feature various new changes, unlike the small differences that are present in the Chromecast 2nd and 3rd generation. You can also check our reset guide to troubleshoot any minor issues in your Chromecast streaming devices.
Various new streaming services like HBO MAX to Google Chromecast and Android TV. Moreover, Spotify also added streaming to its Android app earlier this year.
You can follow us on Telegram, or subscribe to us via our social media channels to stay updated with Chromecast related stories.